MULTIPURPOSESUBMERSIBLE PUMPS
SERIES MB
The MB-series of the TSURUMI AVANT brand is developed for heavy-duty performance and low-maintenance operation. These pumps can be used for various applications to drain and transfer rainwater, wastewater, sewage, ground water or ponded water in residential, industrial, and construction sites.

Compact in size, the MB-series pumps are built to run stably and reliably with EN-GJL-250 cast iron body and impeller, AISI 431 stainless steel shaft and dual inside mechanical seals with silicon carbide faces in the oil chamber.

The MB-series comes in a wide array of models outfitted with either a Vortex or High Head impeller, single- or three-phase motor and drive outputs ranging from 0.37 - 1.5 kW. Users can also select an automatic model equipped with a simple float switch that prevents dry-running operation and reduces power consumption.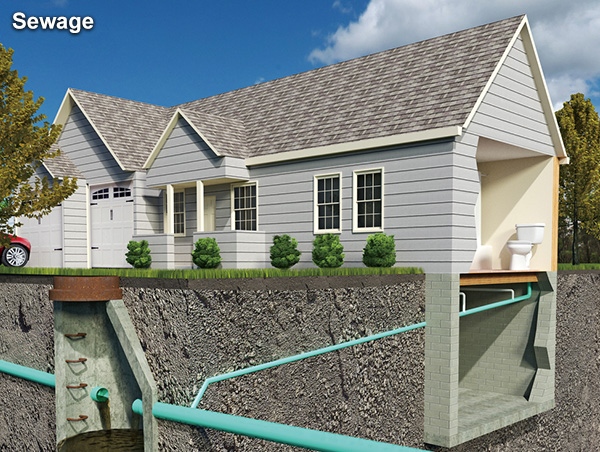 Sewage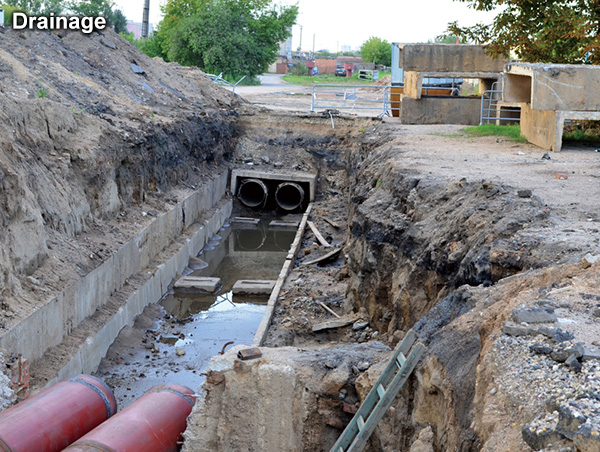 Drainage
Characteristics
Ergonomic "Techno-polymer" lifting and carrying handle with excellent mechanical strength and corrosion resistance. Clip float switch adjustment.
Innovative cable gland system with double O-rings to ensure maximum tightness.
Dry motor with thermal protections. Single-phase models with internal capacitor. Three-phase models with motor protection relay (option).
Oil sump which guarantees longer mechanical seal lifetime, and is easily accessible to simplify maintenance procedures.
Two silicon carbide mechanical seals (2SiC) in oil chamber, and a V-ring in direct contact with the liquid for better sealing.
Air release valve which allows the air to be vented and ensure reliable pump priming even after long periods out of use.
Simple construction with a minimal number of nuts, bolts and other parts to facilitate maintenance.
Features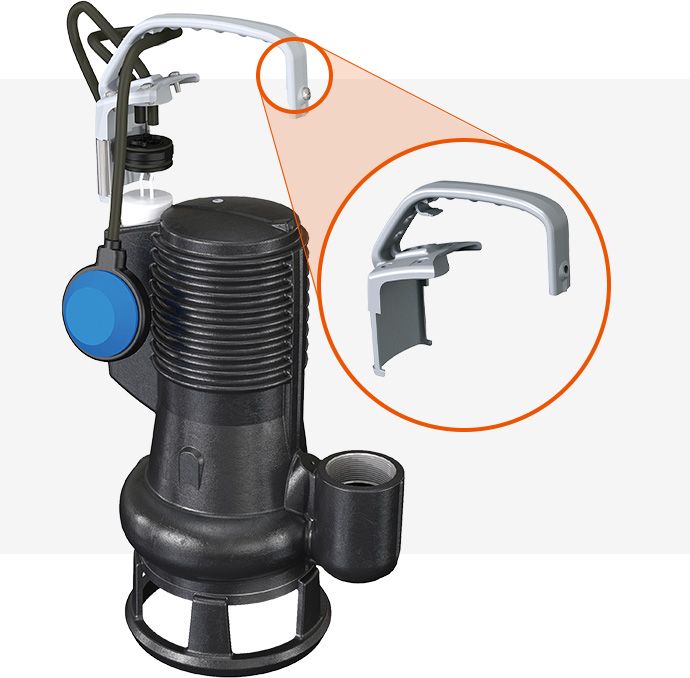 HANDLE
Ergonomic handle made of "Techno-polymer" and styled for optimal grip.
Shaped to take a shackle to hold the pump steady during handling.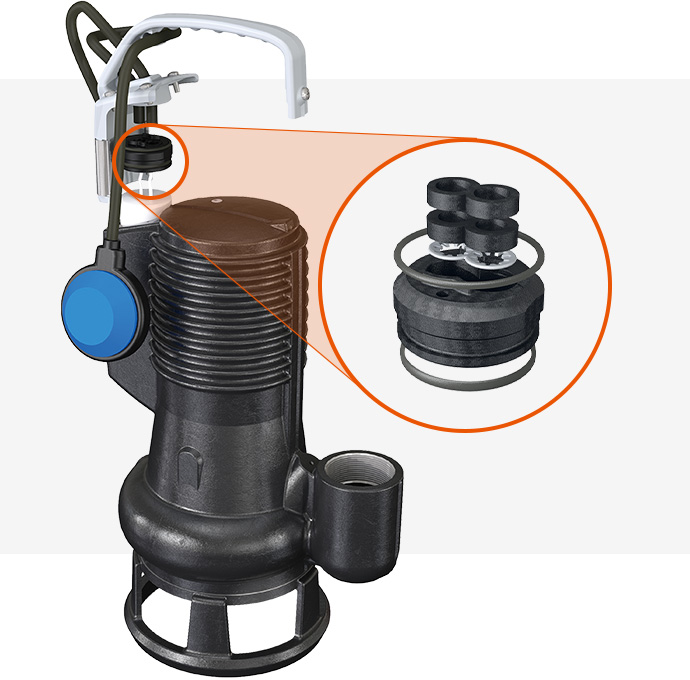 CABLE GLAND
Innovative cable gland system with cable holder system and double O-rings to ensure maximum tightness. Simpler extraction for maintenance.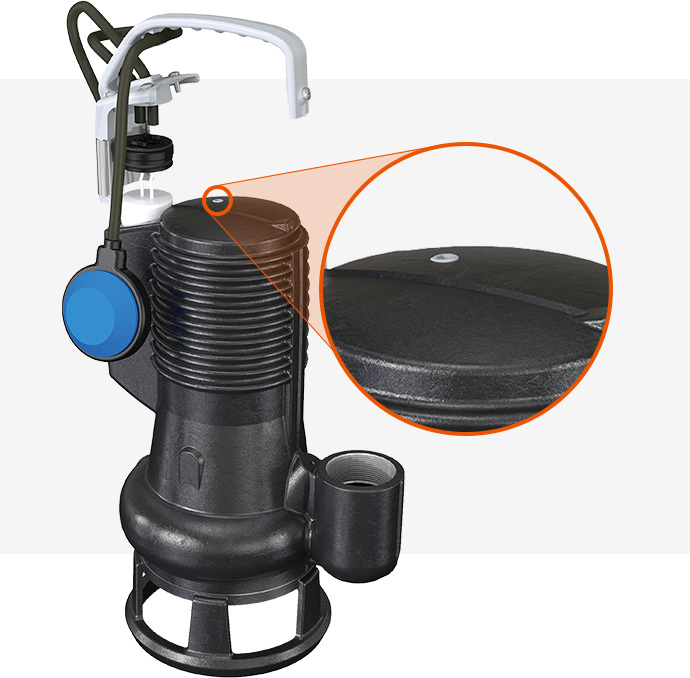 PRESSURISED TESTING
Stud bolt for closing the motor compartment for the pressurised testing, performed on every pump unit.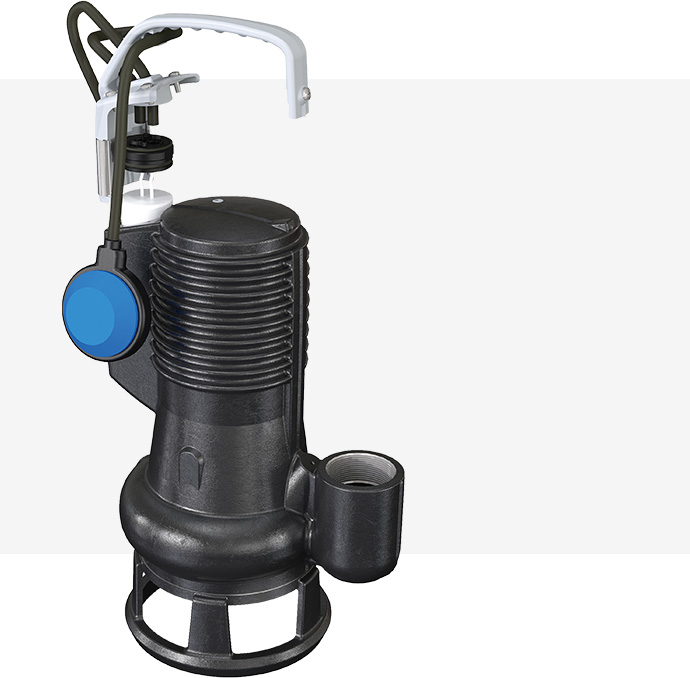 PAINT
Pumps of the Tsurumi Avant brand feature a higher grade of external coating. MB-series pumps are coated with an 120 µm film of ecological bicomponent epoxy, particularly strong against corrosion.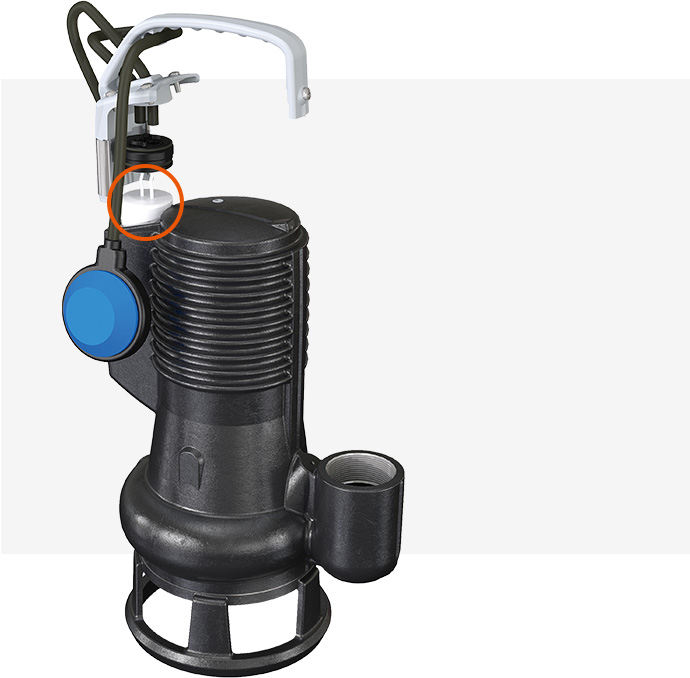 CAPACITOR
Models with a single-phase motor have an internal capacitor. Since high temperatures due to heat exposure are the biggest cause of capacitor damage, the capacitor is installed inside a cast iron housing at the lowest point possible within the motor. A metal contact inside the housing releases heat to keep the motor cool even during operation in shallow water. These design details greatly extend the service-life of the capacitor.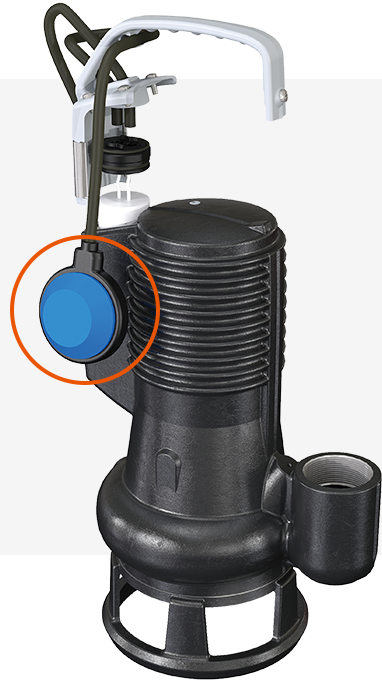 ADJUSTABLE FLOAT SWITCH
Float switch stroke adjustment system for modification of start-stop levels.
Automatic Operation
Pump starts operating when the water level rises to a preset level.

Pump keeps running while the float switch remains on.

When the water level lowers to the preset level, pump stops operating.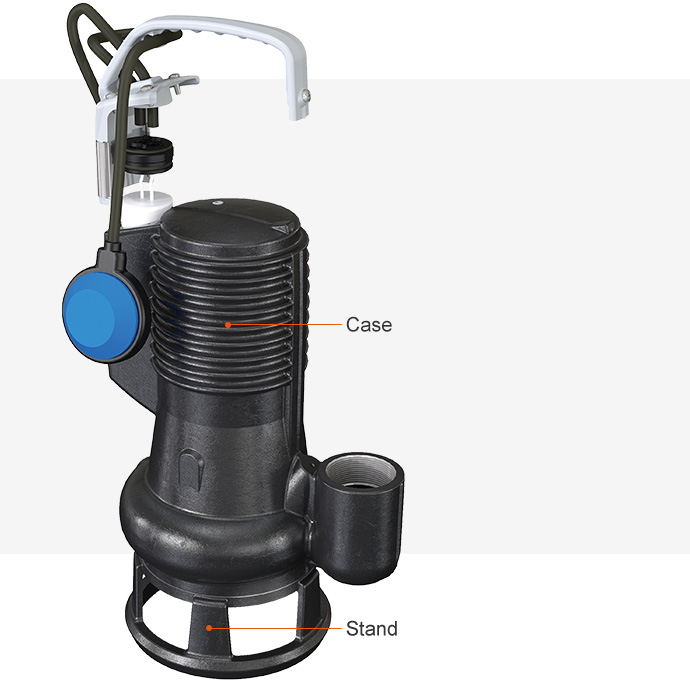 CASE and STAND
The EN-GJL-250 cast iron construction is durable enough to stand up to maintenance requiring removal and replacement of the motor.
The EN-GLS-600 ductile cast iron used for base stand is resistant to impact force and can withstand the impacts of dropping.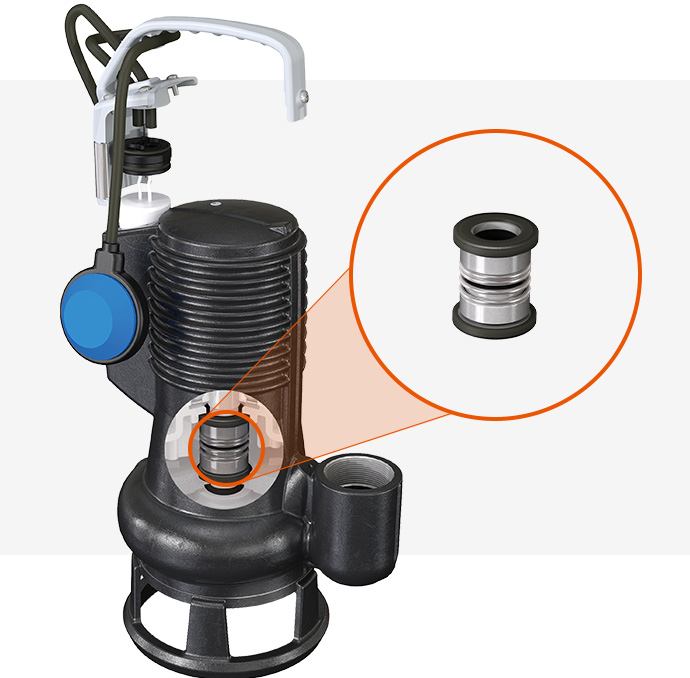 MECHANICAL SEALS
Two silicon carbide (2SiC) mechanical seals in oil chamber.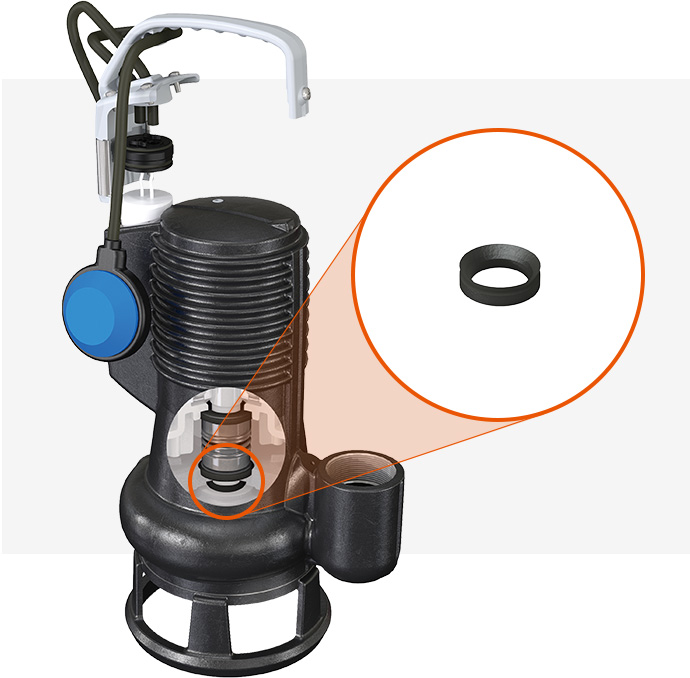 V-RING
The V-Ring in direct contact with the liquid protects the mechanical seals from solid matters to keep them in good working condition.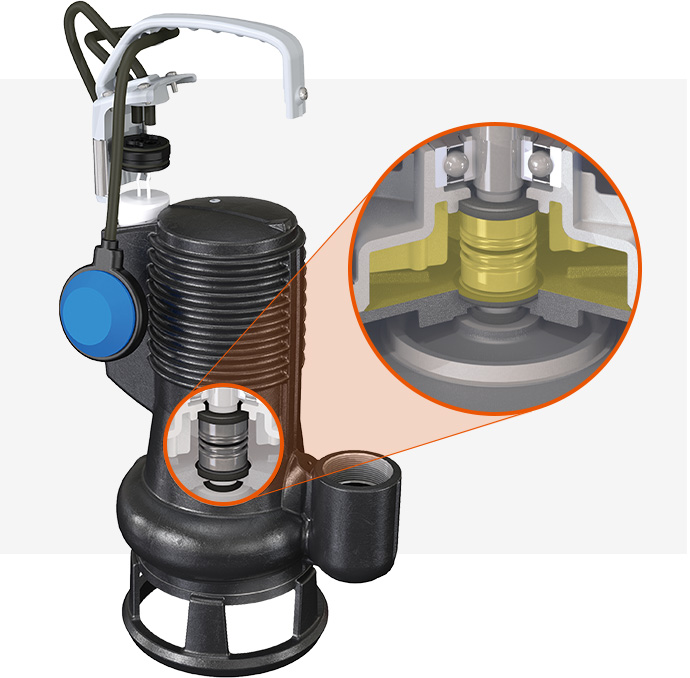 OIL CHAMBER
Guarantees longer mechanical seal lifetime and is easily accessible to simplify maintenance procedures.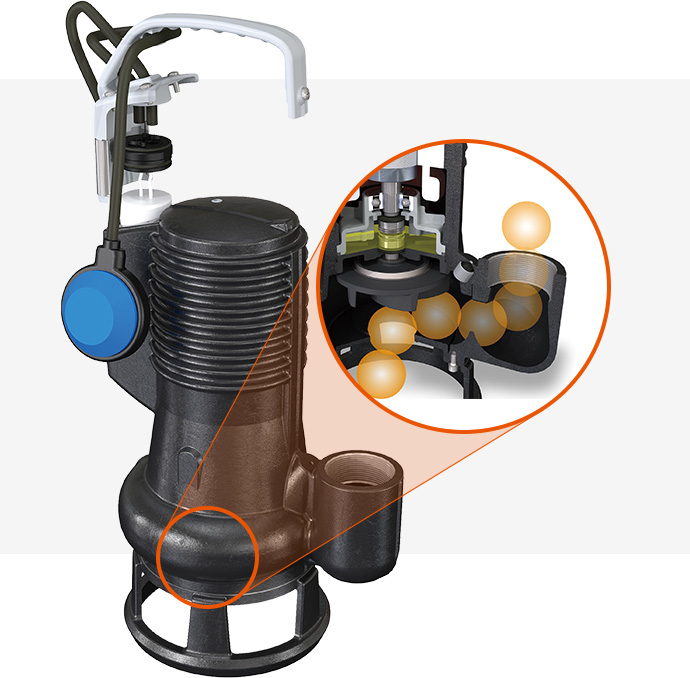 FREE PASSAGE
MBU
Full free passage allowing the expulsion of solids up to 50 mm and preventing fouling of the impeller.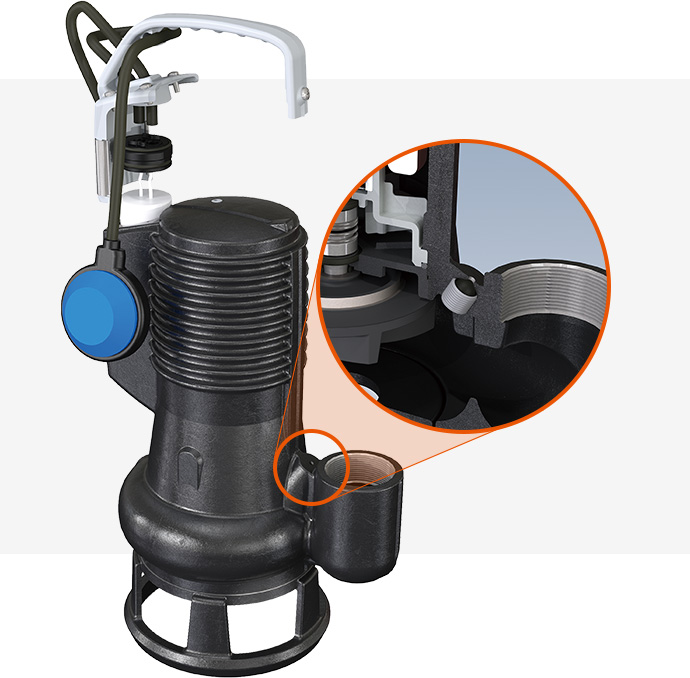 AIR RELEASE VALVE
MBU
The air release valve vents air that accumulates inside the pump after the pit empties, effectively preventing air locks and ensuring reliable pump priming even after long periods of disuse.

* MBS-series design does not require the air release valve.
AIR RELEASE VALVE
[MBU]
12
MBU

(Vortex)

80% or more free passage against discharge bore

Automatic

Vortex impeller

Adapter for
0.37-0.74 kW

Range characteristics

Power supply

1-phase, 3-phase

Frequency

50 Hz, 60 Hz

Power

0.37 - 1.5 kW

Poles

2

Insulation

F

Discharge bore

2˝ threaded

Free passage

max 50 mm

Max flow rate

756 l/min

Max head

15.3 m

Hydraulics

Cast iron vortex impeller
Full free passage

Suitable for

Sewage
Soiled wastewaters with solids
Lifting stations in civil and residential plants

MBS

(High Head)

Highest head available amongst Tsurumi pumps with 0.74 - 1.5 kW
single/three-phase motors

Automatic

Multi-channel
open impeller

90º bend

Range characteristics

Power supply

1-phase, 3-phase

Frequency

50 Hz, 60 Hz

Power

0.74 - 1.5 kW

Poles

2

Insulation

F

Discharge bore

1½˝ threaded

Free passage

max 6 mm

Max flow rate

450 l/min

Max head

26.6 m

Hydraulics

Cast iron multi-channel open impeller
High manometric head

Suitable for

Mainly clean liquids, or liquids with small solids or sand
Slightly sandy seepage waters
Ideal for fountains and water features